Permanent mulching of the soil: a fundamental pillar of market gardening living soil
What are the advantages of permanent soil mulching in market gardening?
Associated with the non or reduced tillage of the soil, the mulching of cultivated beds forms the basis of market gardening on living soil. Its main objective is to guarantee the proper development of the soil's living organisms to ensure a balance between the biological, chemical and physical porosity of the soil. Indeed, it allows both to directly protect the fauna of the soil but also its habitat from the sun's rays and climatic hazards and to provide it with the food necessary for its propagation. The aim is to offer shelter and food to the macro and micro fauna of the soil and to benefit from all the resulting ecosystem services.
Soil fauna is a key element in the decomposition of organic matter, i.e. from mulching to humus and then its mineralization into mineral elements then available to cultivated plants. The soil becomes self-fertile: by bringing food to the soil and its biological life, it in turn nourishes the plant. Market gardening on living soil is moving away from the classic amendment N, P, K in favor of the organic matter that market gardeners bring to the soil through mulching. Vegetable growing systems produce little or no biomass that can be returned to the soil for construction. Since vegetables are harvested before the end of their cycle, very few of them are able to bring carbon to the soil. It is therefore necessary today to create this cycle of saprophytic fertility (living organisms that feed on decomposing organic matter) in market gardening soils by bringing an important quantity of organic matter and therefore carbon to the soil in order to promote biological activity and thus have a functional system.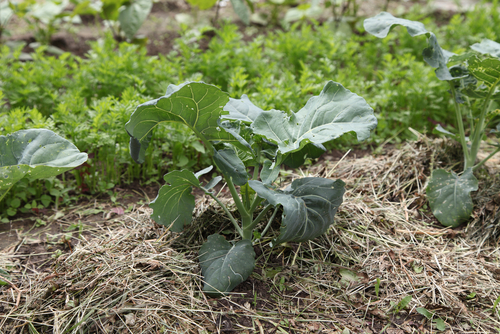 The permanent covering of the soil with organic matter also has other advantages:
Soil protection against water, wind and arable erosion. Mulching prevents raindrops and wind from weakening the surface soil and carrying away material.
Establishment of the structural porosity of the soil. The massive input of organic matter boosts soil life and replaces mechanical porosity with more perennial biological porosity.
Fight against sodding. A dense and fairly thick mulch (a wood shredder mulch such as BRF for example) keeps the beds clean during cultivation and is a good lever against the emergence of adventitious. Reduced tillage reduces the germination of weed seed stock in the soil by limiting periods of soil stress.
Delays the soil temperature. An interface between the sun's rays and the soil, mulching protects it from drought and keeps it moist and spawning. The insulating effect, however, is highly dependent on the mulch used. For example, vegetable compost is very dry and little used where 1m3 of wood shavings stores 350L of water. This phenomenon also protects the soil from cold spells (late frosts for example).
What mulches? What quantities? What supplies?
The possibilities are multiple and each mulch can present advantages as well as disadvantages. The choice of mulch depends above all on the possible supply either directly on the farm or locally from platforms, communes, landscape gardeners, other farmers… According to François Mulet, founder of the national network of market gardening on living soil, it is essential to create a supply chain for organic matter when setting up a market gardening project on living soil. For him, reducing operating costs is a key to economic success in Live Soil Marshalling. This is why he recommends for mulching to make do with what is most easily available and above all the cheapest. Recovering maintenance residues from municipal green spaces is a convenient solution for the city council, which can have them delivered at a lower cost.
Often, when we talk about natural mulching, we think directly of compost. Nevertheless, it is only used in small quantities for market gardening on living soil. In addition to the fact that it is very drying and therefore very water demanding, it is not accessible free of charge unlike other sources of organic matter. As it concerns already degraded organic matter, its C/N is relatively low and therefore it returns little carbon to the soil. Market gardeners prefer more carbonaceous materials such as wood shavings, which are widely used during the transition to reload the soil quickly and massively. Other mulchings are possible, as shown in the table below, depending on availability.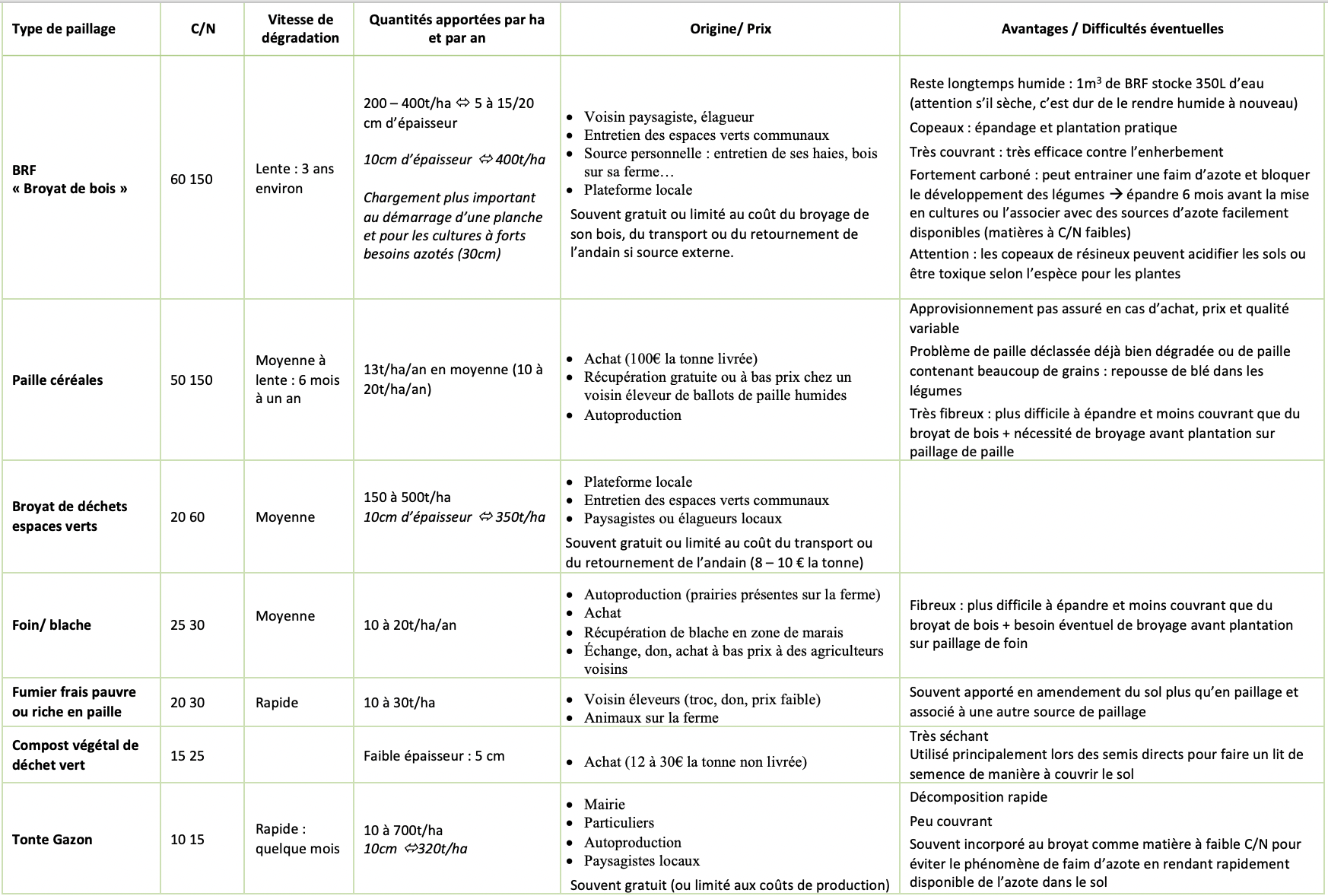 Towards an autonomy in mulching?
Resilience is at the heart of MSV systems. Importing external organic matter on their farms is a limit to market gardening practices on living soil, and raises questions. Depending on the location, it is not possible to recycle unused residues (such as shredded material that clutters up municipal officials after green space maintenance, for example) and market gardeners are forced to buy mulch from elsewhere. As a result, many are trying to build profitable stand-alone structures that produce their own carbonaceous materials. Despite variable results, canopy and green manure trials associated with rotations are found on many farms. Others with more surface area mow their plots left in permanent grassland. Some are also thinking of diversifying their production by adding a livestock workshop, which would complement market gardening since the manure is used to fertilize the cultivated soil.
Market gardening on living soil is a practice in constant evolution with a global reflection of producers to move towards more and more sustainability, particularly around the issue of mulching plots of land which is essential to obtain a living soil.
On these issues, the CDA assists farmers in order to enable them to evolve towards a profitable and environmentally friendly operation.
Find out more about our support offers:https://centre-developpement-agroecologie.fr/agriculteurs/.